Christopher Easthope (b. 1967) is a judge in the 15th District Court of Michigan. He won election in November 2008 and was sworn in the following month to a position formerly held by retired Judge Anne Matteson. He announced his resignation from the bench on July 2, 2015 amid an expectation that a Freedom of Information Act (FOIA) request made by MLive would reveal information damaging to his reputation.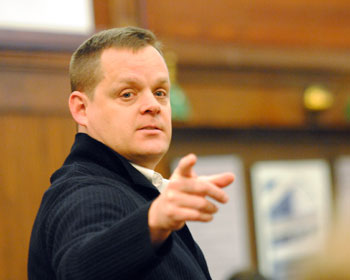 His resignation is effective Dec. 31, 2015.  On July 9, 2015 text messages between Easthope and Nader Nassif were released by the City of Ann Arbor under MLive's FOIA request. The text messages revealed apparent drug use, a dismissive attitude towards Ann Arbor City Council members, and a close relationship between Easthope and Nassif--an attorney who appeared frequently in Easthope's courtroom, before being convicted on various charges in 2014.
Previously Easthope served as a member of the Ann Arbor City Council as a Democrat representing Ward 5 from November 2000 to November 2008. In 2003, he was also elected by his Council colleagues as Mayor Pro-Tem and was elected subsequently in this capacity through November 2007, when Marcia Higgins was tapped by Council to serve as Mayor Pro-Tem.
Born and raised in Ann Arbor, Easthope graduated from Gabriel Richard High School in Ann Arbor, earned a bachelor's degree from Western Michigan University, and a law degree from the Thomas M. Cooley School of Law. His law practice before become judge focused on criminal law.
Easthope has served on the City's Budget & Labor Committee, Environmental Commission, Cable Commission, City Council Administration Committee, and City Council/Michigan Student Assembly Committee.
During his service on the City Council Easthope's participation at the table could be fairly characterized as well-prepared and mild-tempered, although his period of service through 2007 included two occasions on which he demonstrated a willingness to be forceful. On one of these occasions, Easthope exhorted his colleagues not to be "a do-nothing Council" by putting off decisions on building a new facility to house the police and courts. On the second of these occasions, Easthope responded to what he saw as an accusation that the Council was not being transparent in its deliberations, by citing the various media covering the meeting, including live television broadcast by CTN, and local bloggers. On that occasion, Council made a decision to reverse the resolution of a previous Council, by stipulating that the proceeds of property sales would not automatically be earmarked for affordable housing but would be subject to a case-by-case review by Council.
Easthope lives in Ann Arbor and has two sons, Aidan and Conor.
Timeline: Chris Easthope
July 2, 2015 Easthope announces his resignation from the 15th District Court bench.
November 4, 2014 Easthope was re-elected unopposed for another six-year term.
January 9, 2009 Easthope sworn in as district court judge for his first 6-year term of office.
November 4, 2008 Easthope elected district court judge in race against assistant prosecutor Eric Gutenberg.
2000. Easthope elected as a member of the Ann Arbor City Council, representing the Fifth Ward.
1995. Easthope graduates from Thomas M. Cooley Law School.
In the News
Ann Arbor judge who resigned amid text scandal says he's on medical leave – MLive, Dec. 20, 2015
Read all the 'deeply offensive' text messages that prompted Ann Arbor judge to resign – MLive, Aug. 17, 2015
Michigan Supreme Court Chief Justice: Ann Arbor judge should get due process – MLive, July 27, 2015
Judge Christopher Easthope receiving paycheck while not hearing cases – MLive, July 14, 2015
Court: Judge Christopher Easthope won't hear more cases due to 'disturbing' texts – MLive, July 13, 2015
Judge Christopher Easthope says he's staying on bench amid text scandal to ensure 'smooth transition' – MLive, July 12, 2015
Resigning Judge Christopher Easthope used pot with lawyer he helped to get city contract, text messages show – MLive, July 9, 2015
Ann Arbor Judge Christopher Easthope announces resignation – MLive, July 2, 2015
Monday Profile: Judge Chris Easthope – Washtenaw Legal News, Feb. 7, 2014
Q&A with Judge Chris Easthope: On the impact of eliminating judgeships statewide – AnnArbor.com, Aug. 27, 2011
Chris Easthope sworn in as new Ann Arbor district court judge, Ann Arbor News, December 2008
Teeter Talk interview 19 January 2006: http://www.homelessdave.com/tt20060119ceasthope.htm
Additional background