Location
1 Walnut St, Chattanooga, TN 37403
The Walnut Street Bridge is a 2,376 feet wrought-iron and steel through truss bridge spanning the Tennessee River in Chattanooga, TN.
History
Built in the 1890s, it was the first bridge to connect downtown Chattanooga with the north bank of the river.  Not the north shore, but the north bank.

Shortly after the bridge was opened near the turn of the 20th century, Alfred Blount and Ed Johnson were lynched on the Walnut Street Bridge.  It's kind of awkward to talk about it now.  In the 88 years the bridge was opened a whole lot of good things certainly must have happened on the bridge too.  Proposals of marriage and whatnot.  No doubt.  And other less "kill-y" stuff.  Definitely.  Crops going to market in horse-drawn carts and families driving Model T Fords to church and things.
...
Closure
The Walnut Street Bridge was closed to vehicular traffic in 1978.   The City of Chattanooga made plans in the 80's to demolish the metal bridge, melt its component parts and reshape the metal into Rubik's cubes and Transformers.(citation needed)  Unfortunately, the City had no money for the project.  Unfit for its intended purpose, with its demolition postponed indefinitely, the old truss bridge languished and began writing country songs about itself, its two-timing wife and its dog.  Access to the bridge after 1978 was limited to that one piece of chain link fencing that was loose on the south side by the Hunter Museum which you could pull aside and crawl under.   Throughout the 1980's the Walnut Street Bridge was used predominantly as a location for high school students to drink.  Allegedly.
Renovation
In the late 1980s, an earnest and dedicated group of community activists worked tirelessly to salvage the bridge.  They consulted with architects, engineers, historians and civic leaders.  They sacrificed a baby goat and consulted with dark forces.  They held fund-raising campaigns and soldWalnut Street Bridge Name Plaques.
  After much effort, the Walnut Street Bridge was added to the National Register of Historic Places on February 23, 1990 and ultimately reopened in 1993 as a pedestrian bridge.
Indigenous Species
The Walnut Street Bridge and its surrounding area exhibit remarkable biodiversity.  Among the species spotted:

Great Blue Heron (Ardea herodias) - the Great Blue Heron rookery on Audubon Island is a sanctuary for these stately birds.
Crusty Punks (Locomotis hopperus) - frequently seen "busking" (playing guitar, harmonica or bucket badly in hopes that you will pay them to stop)
These creatures exist in a symbiotic relationship with mangy dogs which are very hungry and will bite you.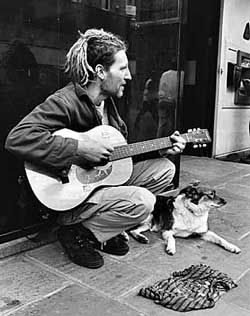 Crusty Punk with Malnourished Dog
Virginia Opossum (Didelphis virginiana) - these adorable nocturnal critters are soft, cuddly and out to steal your heart.
Virginia Opossum
Jogging Soccer Mom (Yogapantea cameltoenis) - these pony tailed animals are very swift and are known to be prolific breeders; frequently seen carrying their young in three-wheeled conveyances.
North American Beaver (Castor canadensis) - While you won't often find these wily characters emerging from the river, they do occasionally frolic on the underside of the Walnut Street Bridge.  If you lean over far enough there's a good chance you'll see one.
North American Beaver
Representations in artwork
Along with the Tennessee Aquarium, the Walnut Street Bridge serves as a symbol of the vast ongoing riverfront/urban renewal project that is our fair city.  As such, many aspiring artists have attempted to capture the majesty of the bridge.  Many, many aspiring artists.  Usually at sunset.

Pictures of the bridge are so ubiquitous that area businesses are required to post their legal maximum occupancy as well as the total number of Walnut Street Bridge pictures in their building.(citation needed)   Art Creations, an art supply store near the northern terminus of the bridge, subsists solely on selling art supplies to artists in training making yet another bridge picture.