Dante and Frankie are brothers. I have had them since they were ten weeks old, and they are now about 4 years old. They love each other very much, and often wrestle and sleep curled up together, like this:
This is Dante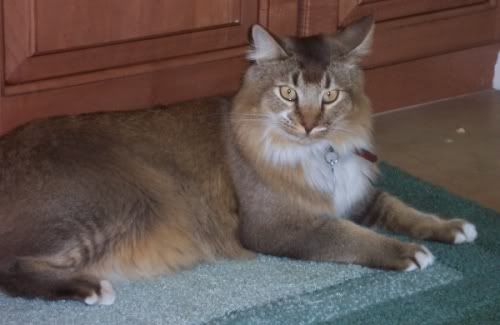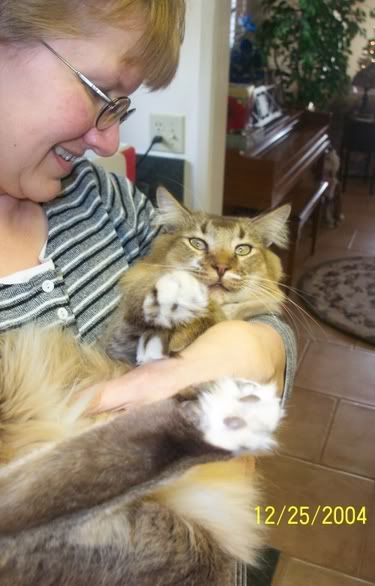 Dante is the most awesome cat EVER! He looks just like a lion; GORGEOUS! If you live in Greystone Apartments, chances are that you've seen him more than once or twice. He wanders around the complex greeting people and brightening their days. He's extremely friendly, so don't hesitate to love him if he happens upon you. When he meows and purrs at the same time, he sounds like a squirrel, yet he also constantly chirps like a bird. It is hard to describe the myriad sounds that come from his mouth, but it's adorable. His tail bends at the end like a candy cane because it is SUPER LONG and fluffy. He likes to be held like a baby (see pic) and loves it when Kenji runs with him up and down the hall going "whoooOOOooOa. whooOOoooOOOooa"
He does NOT like it when we squirt him with a water bottle. ;)
This is Frankie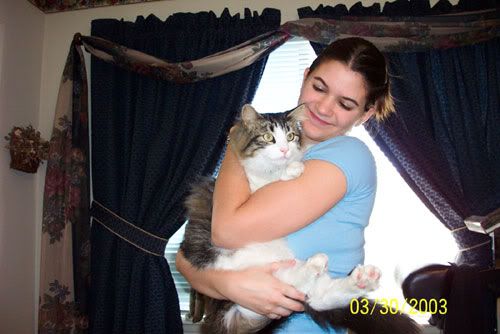 This is an old photo.
Name
Frankie (AKA Franklin, Frankfurter, Frankensense, Frankinson Crusoe
(courtesy of my roommate, Amira)
Species
Cat
Person
Sam Wagner
Personality
The first thing that should be said about Frankie is that he's HUUUUUUGE! I swear, he looks like a bear. He has BEAUTIFUL black and grey striped fur with a white belly and paws. His paws look like big snowshoes. He's a sweetheart, but he is also pretty aloof. He only wants attention on HIS terms, but when he does decide to love and nuzzle you, it's awesome. He is the "favorite" of Paul and Steph because he isn't such the handful that Dante is (AKA ADHD Cat), and he loves to sleep on Steph's bed. He's a great hunter, and one of his favorite activities was catching gophers at my mom's house last year.
2005-07-09 07:19:32   These cats are fantastic. When I first moved into Greystone last summer, Dante was the first person/cat I met. Although I was worried what the owner would think if I let him in, I didn't really have a choice as he darted in as soon as I opened the door. Pretty soon I got to meet Frankie and Louie (Greystone Stray?) also. In the fall the cats spent a couple days at my apartment playing with the roomates and myself. I'm not sure how Samantha would feel about it, but we fed them milk a couple of times too. One day they ran on my bed and just slept there for awhile. When they woke up, Dante climbed on my lap and I got to pretend to be a James Bond Villain for awhile. Great cats, wish they could roam around Greystone again, for the longest time I wondered what happened to them. —AlvinTsao
---
2005-08-25 13:15:07   I loooove dante! i was so sad that i hadn't seen dante around greystone lately, and then i learned it was our new manager that was not allowing cats to wander around, it only deepened my dislike of her. he and frankie are absolutely the best. sam you are right, dante totally has brightened my days living here. once i was sitting on the curb and crying while on the phone with someone (i don't even remember what about) and dante came up cheered me up. he has also periodically wandered into my apartment. like alvin, i wasn't sure at first if it was okay to let him in, but he let me know it would be rude to shut the door in his face. this is a picture from one time when dante graced us with his presence. dante on the left, looking regal and in control, and my boyfriend kevin on the right, looking wary.
thanks for sharing your cats! i know being able to see dante and frankie periodically has made me less homesick for my own cat, bunsen. also, seeing how good-natured your cats are speaks volumes about what great people they live with. —LauraCochrane
---
2007-10-31 14:48:25   Your cats are beautiful! —FeralFeline