Fageol Motors Company ground-breaking, June 9th, 1917. Capital expenditure were to be about $500,000 and the company was to employ several hundred men. 1
The Fageol Motors Company was established in 1916 by William B. Fageol and his brother Frank R. Fageol in Oakland, California. Prior to 1916, Frank Fageol operated an automobile and truck dealership in Oakland. In or soon after 1916, W. C. Morse purchased the truck dealership, and eventually opened a showroom and garage at 4270 Broadway in what is known as the W. C. Morse Building. In 1917, the company constructed a factory near the corner of 106th Avenue and Hollywood Boulevard (now MacArthur Boulevard).
The factory continued to be used by Fageol and its successor, Peterbilt, until 1960. The former factory buildings, with their second floors removed, were converted into the first incarnation of the Foothill Square Shopping Center in 1962.4 In addition to autos and trucks, Fageol produced farm tractors and buses. Prior to WWI, Fageol had manufactured two luxury automobiles with Hall-Scott SOHC six-cylinder engines, but with the start of the war, those engines were needed for the construction of airplanes.
Fageol also built a Hamilton farm tractor, which was initially designed by Rush Hamilton. Following a redesign by Horatio Smith to bring the tractor more in line with the needs of West Coast farmers, in 1923 the farm tractor division was sold to Great Western Motors Company based in San Jose, California.
A new style of bus, the "Safety Bus" designed by Fageol in 1921, marked the first time a company had built a bus from the ground up. With a wide track and built lower to the ground, the bus was more resistant to roll-overs around corners. Later the buses were renamed the "Safety Coaches" as a marketing attempt at implying greater value.
Trucks built by Fageol were popular due to their fine construction and their dual range, mid-mounted transmissions.
By 1927 the Fageol brothers left Oakland, and moved to Kent, Ohio to start the Twin Coach Company, although the company remained in Oakland. The company went into receivership in 1932, and was reorganized as Fageol Truck and Coach. In 1938, lumberman T.A Peterman purchased the Fageol factory, and then created the Peterbilt Motors Company.
On October 25, 2014, Peterbilt will be celebrating its 75th anniversary with a truck show in Stockton that will include numerous Fageols as well as Peterbilt trucks that were built in the Oakland factory.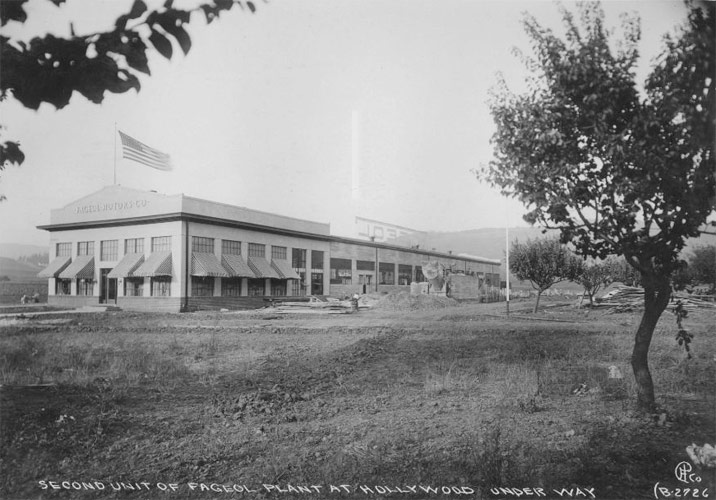 Second Unit of Fageol Plant at Hollywood Under Way (circa 1917) 5
Fageol Tractor (circa 1920s) 2
Fageol Bus (1925) 3
Links and References