CC SA-BY Our Oakland
Oakland Marriott City Center
1001 Broadway
Oakland, California 94607
510-451-4000
website
The hotel now known as the Oakland Marriott City Center was originally known as the Oakland Hyatt Regency when it opened on Monday, May 16, 1983. 1 The opening was celebrated with a large special supplement in the previous Sunday's Oakland Tribune, which featured numerous ads from companies and groups welcoming the hotel and adjoining Oakland Convention Center to Oakland City Center.
Oakland Tribune May 15, 1983 2
Oakland Tribune May 15, 1983 3
Oakland Tribune May 15, 1983 4
On April 1, 1991, the hotel lost its affiliation with the Hyatt chain, and became known as the Parc Oakland. 5 On January 26, 1991, it became part of the Marriott chain and was officially renamed the Oakland Marriott City Center. 6 In addition to changes in affiliation and management, the hotel has also gone through a few changes in ownership. CIM Group purchased the hotel in 2007, and DiNapoli Group purchased it in May 2015, for a price of $66 million. 7 Interestingly, a review of available title records show that this was just an acquisition of a ground lease for the hotel building, and that the same entity purchased the underlying land from the City of Oakland about a year later for about $780,000. 8 The current owner, an affiliate of GAW Capital, purchased the hotel for approximately $134 million the following year, 2017. 9,10
The hotel is home to three murals, the most prominent of which is called "The Child" by its artist, but is more commonly known as "Zero Hunger" based on the series which includes this mural. 11 It is known to be the largest mural ever painted in Oakland, and is on the east side of the hotel tower facing Broadway. The other two murals are the Marriott Mural by Kal, which faces a passageway between Broadway and 10th Street under the tower, and the Visit Oakland mural by Illuminaries, which faces 11th Street and Broadway near the hotel's main entrance.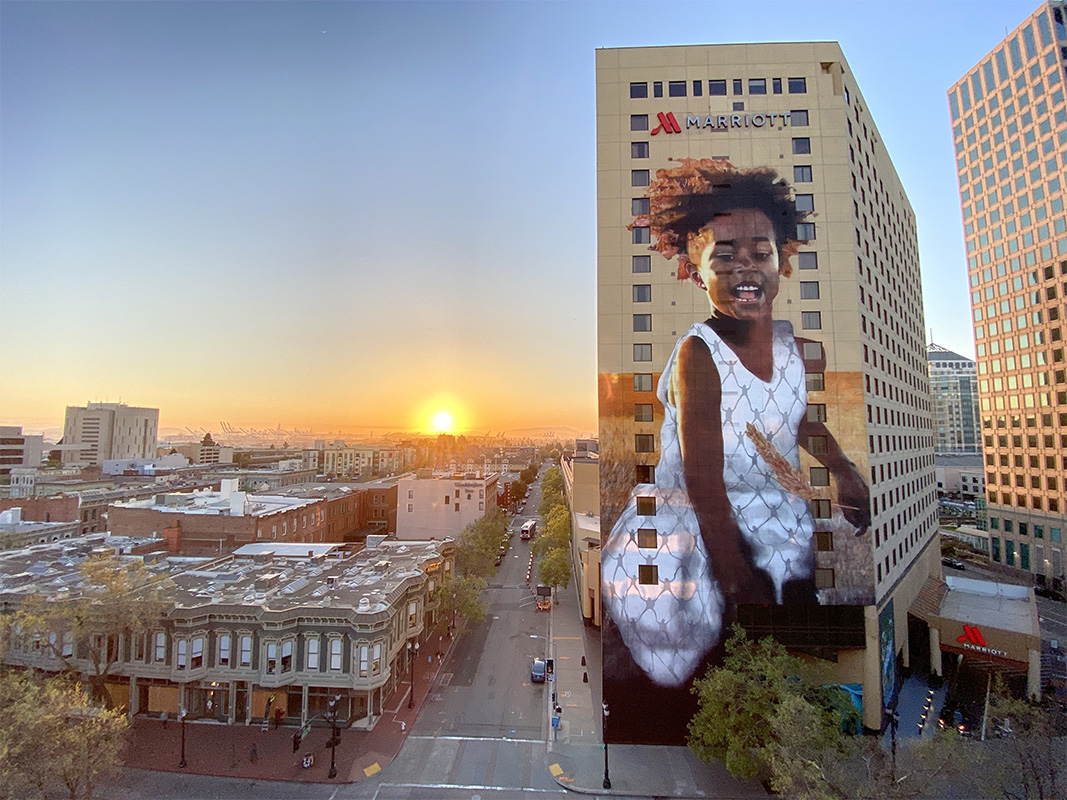 Courtesy of the artist, Victor Ash 11 
Marriott Mural 
Visit Oakland
Links and References