In 2013, City Council was once again discussing a curfew for youth in Oakland. The issue has come up before.
Technically, Oakland has a youth curfew. Whether it's enforceable is debatable.
9.12.020 Minors in public places.

Every person under the age of eighteen (18) years who loiters in or about any public street or other public place or any place open to the public in the city, between the hour of ten p.m. and the time of sunrise of the following day when not accompanied by his or her parent, guardian or other adult person having the legal care, custody or control of such person, or spouse of such person over twenty-one (21) years of age, is guilty of a misdemeanor.

9.12.030 Responsibility of parents, guardians and other persons.

Every parent, guardian, or other person having the legal care, custody, or control of any person under the age of eighteen (18) years who permits such person to violate the provisions of Section 9.12.020, is guilty of a misdemeanor.

2013 | 2012 | 2009 | 1997 | 1995 | 1992
2013
Noel Gallo has proposed that people under age 18 must be inside at 10:00pm. According to the news, the proposal says that "anyone under 18 cannot remain in a street, park, public outdoor space or car between 10 p.m. and 5 a.m., unless they are accompanied by an adult age 21 or over or involved in certain activities, like traveling to or from work, completing an errand on behalf of a parent or attending an official school, religious or city-sponsored recreational activity. It would also ban minors from being out and about during school hours, from 8:30 a.m. to 1:30 p.m."
Businesses are supposed to send people under 18 home and parents would get in trouble on behalf of their kids. Kids could face fines, community service or jail time.1
On September 26th, 2013, Noel Gallo introduced the following proposal to the Rules and Legislation committee. Proposed Juvenile Protection Curfew Ordinance to Oakland City Council (Oakland City Council Member Noel Gallo).docx The issue was discussed at the Public Safety Committee meeting November 12th, 2013.
Highlights: 
Curfew Hours: 
10:00 P.M. – 5:00 A.M., 7 days a week (Monday through Sunday)
Between the hours of 8:30 A.M. – 1:30 P.M. on school days

The law would:

1.     Make it unlawful for any minor to be present in any public place or on the premises of any establishment within the City of Oakland during curfew hours.
2.     Make it unlawful for any parent or legal guardian of a minor knowingly to permit, or by insufficient control to allow the minor to be present in any public place or on the premises of any establishment within Oakland during curfew hours.
3.     Make it unlawful for the operator or any employee of an establishment to knowingly allow a minor to remain upon the premises of the establishment during curfew hours.

Penalties (Gallo calls them "consequences"):
Consequences for Juvenile Curfew Violations:
**Fines (usually increasing for subsequent violations)
**Imposition of community services or required enrollment in after-school programs
**Restriction of diver's license privileges
**Possible detention in jail or juvenile hall

November 12, 2013 Public Safety Meeting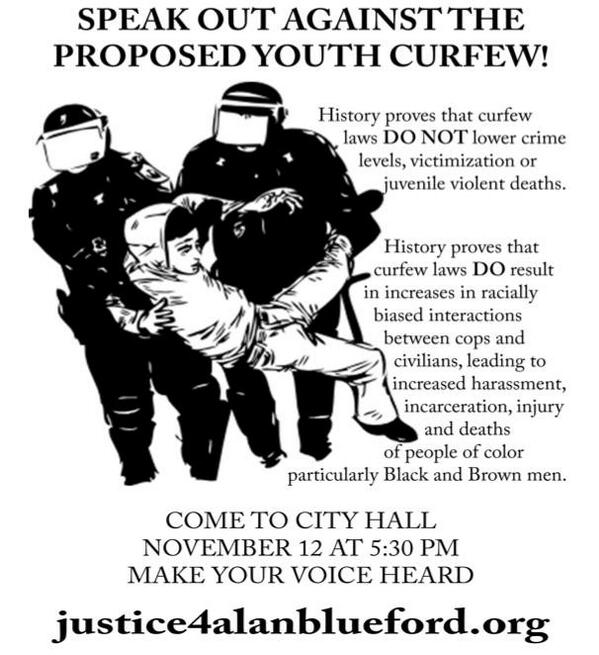 [source]View Report (38).pdf This report is Gallo's update on the 2011 ordinance introduced by Reid and de la Fuente. It was submitted Oct 27, 2013. From the report: "MAKING CURFEW IS IMPORTANT FOR YOUR SAFETY. AND IT CAN KEEP YOU OUT OF TROUBLE." 
included:
1. Councilmember Gallo's policy statement and preliminary recommendations on provisions to be discussed for inclusion in the ordinance to be proposed to the full Council for adoption;
2. The earlier youth curfew ordinance and council reports from councilmember Larry Reid, in his capacity as the former City Council President, and councilmember Ignacio De La Fuente, former council member for District 5, submitted to the Council in 2011;
3. Oakland Police Department crime statistics on youth-related crime for the past two years;
4. City of Oakland year end crime reports for 2010, 2011 and 2012;
5. 2012 homicide statistics reported on line at http://quickfacts.cen5us.gov/qfd/states/06/0653000.html;
6. School Dropouts by Ethnic Designation by Grade Report from the Cal. Dept. of Education, Data Reporting Office;
7. Suspension, Expulsion, and Truancy Report for 2011-12 from the Cal. Dept. of Education, Data Reporting Office;
8. Truancy Report from the Cal. Dept. of Education.
View Supplemental Report (12).pdf This is a supplemental report submitted October 27, 2013 by Gallo. It includes a curfew from San Jose and some statistics from the OUSD.
The supplemental includes:
Truancy Report from the Cal. Dept. of Education.
San Jose's Juvenile Protection Curfew Ordinance and data on San Jose's gang related incidents broken down by age of offenders and victims to serve as an example.
Oakland Unified School District's attendance and graduation data for 2010-2011 an(J 2011-2012 found in the report Oakland Achieves: A Public Education Progress Report and online at jlttp://www.urbanstrategies.orR/AAMAI/index.php/attendance-research-proiect
At the meeting, dozens of speakers spoke against the curfew. With the exception of Gallo, the three other members of the Public Safety Committee were unwilling to support the idea of a curfew. Dan Kalb said that he does not support nighttime curfews. Libby Schaaf said that Chief Whent does not want curfews, there are not enough staff to enforce a curfew and that Ceasefire is about increasing the goodwill of the community. Lynette McElhaney stated that she was against curfews. The 3 CMs thanked Gallo for bringing the issue to the table but wanted to approach the issue of truancy ("chronic absenteeism") and crime against and by youth in other ways.
Positions:
Center on Juvenile and Criminal Justice against the curfew in Oakland
San Francisco Magazine thinks curfews aren't proven to reduce crime. 
ACLU letter against the curfew (updated version of the 2011 letter)
Protests/Community Opposition
Please add any past or planned efforts here.
2012
In 2012, then-Chief Howard Jordan argued for a curfew and said that he would spearhead the movement to get one. HoJo believed that the curfew would help protect kids and lower crime. It would involve a "public-private partnership with a nonprofit group that can provide a facility where curfew violators are processed and await pickup from parents or legal guardians.." Olis Simmons of Youth Uprising (funded by the city) was quoted in the Chronicle as supporting Jordan's plan.8 Chip Johnson, the Chronicle columnist, Tammerlin Drummond of the Oakland Tribune (see article)  and then-Councilmember Ignacio de la Fuente supported the plan. The East Bay Express published an editorial against it, saying that the process of picking up teens would take over 90 minutes of a cop's time, asking who would fund the centers, reminding readers that stop-and-frisk is a version of racial profiling and that the numbers didn't back up the need for a curfew.9 Lucas Brekke-Miesner of Oakland Kids First told CBS that he was against the curfew.10
2011
Larry Reid and former Member Ignacio de la Fuente introduced curfew legislation on October 4, 2011 but it did not pass. The ordinance was written by Jean Quan's Senior Policy Advisor for Public Safety Reygan Harmon (which is strange since according to one article, Jean Quan was against the curfew). de la Fuente said that the curfew would be another tool in crime-fighting, not a cure-all, and would be helpful, along with gang injunctions. Then-Chief Anthony Batts was for the curfew. Read his thoughts about curfews in general here.
The ordinance included a nighttime curfew: Anyone under 18 would be prohibited from being outside anywhere in Oakland between 10 pm and 5 am Sunday through Thursday, and 11:30 pm to 5 am on Friday and Saturday. It also included a daytime curfew, from 8:30 am to 1:30 pm, on school days. David Muhammad, Alameda County's Chief Probation Officer said that "For the problem that Oakland has, I don't think curfews are the answer."11
listen to audio discussion at City Council meeting on Tuesday, Feb 4th, 2011 here
The Ella Baker Center was against the curfew. They argued that the curfew would waste valuable police resources on youth that weren't a threat, be a costly and ineffective use of public resources and suggested proactive solutions. The Prison Activist Resource Center made a flier against curfews.
The Oakland Tribune, Tammerlin Drummond and Chip Johnson came out for the curfew.12
2009
In 2009, Larry Reid proposed a curfew requiring minors to be inside between 10 pm and 5 am on weekdays and 11pm and 5 am on Fridays and Saturdays. This ordinance was proactive: it allowed OPD to perform sweeps and pick up minors during those hours. The ordinance allocated $75, 290.36 and allegedly was a "protection" measure: Reid argued that it would help in the fight against juvenile prostitution and youth crime.
The $75k would be used for 12 enforcement sweeps a year, rather than year-round enforcement. The sweeps would be staffed by officers on overtime. (This is in a 2009 memo?)13
At a meeting on Februrary 10th, many speakers spoke against the ordinance and then-Councilwoman Jean Quan and Nancy Nadel said they would vote against it. Patricia Kernighan also voted to deny the item. (Only two speakers spoke for the ordinance.)2 The ordinance would not have led to citations or arrests- the youth would have been picked up and taken to centers. However, in the wake of the shooting of Oscar Grant, people were suspicious about more contact between youth and cops.3 
Groups like Critical Resistance, Oakland 100 Support Committee, All City Council Program opposed the curfew.
1997
In 1997, then-City Manager (now known as City Administrator) Robert Bobb proposed a youth curfew that would be both day- and nighttime. It was hoped that the daytime portion would keep kids in school. Adults from both McClymonds and Castlemont High were quoted as supporting the curfew.4
1995
City Council considered a curfew in 1995 but it didn't go to vote.5 Then-Mayor Elihu Harris, who had also proposed a curfew in 1992, proposed a curfew from 10-6 on weekdays for kids under 16 and 11-6 on Fridays and Saturdays. If picked up, violators would go to a city-run detention center. The Public Safety Committee didn't like the proposal, however, and agreed with a staff report that said that the curfew might be ruled unconstitutional, there weren't enough staff to run these detention centers and there weren't enough staff to implement the curfew. Further, the numbers didn't back up the curfew. Then-Councilmembers Nate Miley and John Russo spoke against the curfew. Russo said it would increase tension between police and youth.7
1992
In 1992, in response to heavy violence at the beginning of the year, then-Mayor Elihu Harris called for a curfew. He asked parents to impose a "voluntary curfew" for kids under 18 after 10 PM, and also asked the City Council to consider a curfew. His curfew measure included things like midnight basketball, fining parents if youth used weapons, after-school, job-training, etc.6
In the News
Tavares, Steven. "Noel Gallo, Juvenile Curfews And The Politics Of Personal Experience." EBCitizen.com: Sep 26, 2013. 
Artz, Matthew. "Anti-curfew flier brands swastika on Oakland council member." Oakland Tribune: Sep 27, 2013.
Budner, Ali. "Today on Your Call: Do youth curfews make a city safer?" KALW: Oct 9, 2013.
Tavares, Steven. "Proposal For Youth Curfews In Oakland Meets A Familiar Fate." EBCitizen.com: Nov 12, 2013.
Kane, Will. "Oakland curfew plan assailed at hearing." SFGate.com: Nov 12, 2013.
References
Kane, Will. "Oakland youth curfew proposed to help fight crime." SFGate.com: Sep 23, 2013.
Swan, Rachel. "Timing "Not So Perfect" for Youth Curfew Law in Oakland." East Bay Express: Feb 11, 2009.
Woodall, Angela. "Costs, worries about police abuse kill Oakland youth curfew proposal." Oakland Tribune: Feb 10, 2009.
Mitchell, Eve. "Day and night curfew proposal." SF Examiner: Dec 20, 1997.
Mitchell.
Paddock, Richard C. "Oakland Mayor Calls for Action to Stem Violence." Los Angeles Times: Mar 25, 1992.
DelVecchio, Rick. "Big Blow To Oakland's Curfew Plan / Report concludes it wouldn't deter crime." San Francisco Chronicle: May 18, 1995.
Johnson, Chip. "Oakland police chief wants youth curfew." San Francisco Chronicle: Aug 2, 2012.
Gammon, Robert. "Why a Curfew in Oakland Is Still a Bad Idea." East Bay Express: Aug 16, 2012.
"Another Proposal For Oakland Youth Curfew Meets Opposition." CBS News: Aug 4, 2012.
Waheed, Amina. "To Curb Jevenile Crime and Violence, Oakland Debates Teen Curfew." Oakland North: Oct 4, 2011.
Gammon, Robert. "Why Curfews Don't Work." East Bay Express: Sep 7, 2011.
Gammon, 2011.