Scotts Valley is a city in Santa Cruz County with a population of approximately 11,000 people. The city encompasses an area of about 4.6 miles and it is located about 6 miles northeast of the City of Santa Cruz.
The first settlement in the area was Camp Evers, at the corner of Scotts Valley Drive and Mount Hermon Road. The first library of Scotts Valley in 1953 was near this location.
The first landowner was Jose Antonio Bolcoff.  He was a Russian translator and a friend of Governor Pablo Vicente de Sola. He was the only Russian known to receive a Mexican land grant.  Bolcoff and his family lived on the Rancho San Agustin during the 1830's.
Hiram Scott bought land in the area. The valley was named Scotts Valley first, then the settlement. It is "Scotts" Valley without an apostrophe, because the settlers wanted to honor the family and not just Hiram. In 1964, there was a vote to incorporate the town, and it was challenged in court, which delayed the process. The city was finally incorporated in 1966. Beginning in the latter part of the 20th century, the city was the location of numerous roadside attractions which are gone now.  (Tree Circus, Santa's Village, and Lost World.)  Technology firms such as Seagate Technology, Victor Technology, Borland International, and Watkins-Johnson moved into the area in the 1980's.
Community
News
Community Organizations
Spiritual Organizations
Events
Nearby Communities
Neighborhoods
RV Parks
Parks
Schools
Businesses and Services
Shopping Centers
General
Entertainment
Food & Drink
Lodging
Transportation
Streets
Maps
Scotts Valley, CA 95066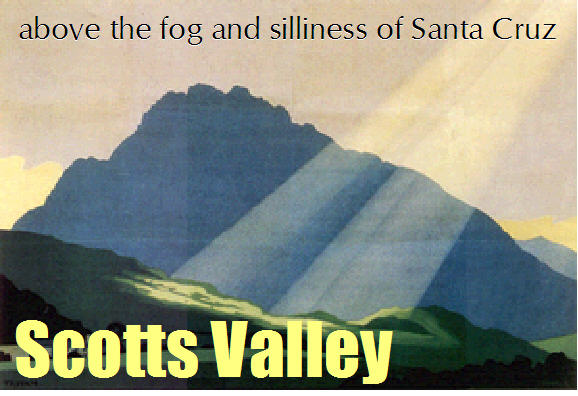 | | |
| --- | --- |
| | This entry is a seed - a starting point for writing a full entry. You can help the Santa Cruz Wiki by expanding it! Simply click on the "Edit" button. |
| | |
| --- | --- |
| | This article is in need of a Photo.To add an image to this page, click "Edit" then click the image button. |
Related Links