Since the police shooting death of Michael Brown on August 9, a series of protests, rallies, and demonstrations have continued almost continuously.
There are also Nationwide Michael Brown Protests (help document them on that page!).
Students at nearby Howard University with their hands up in protest on 8/13. via https://twitter.com/sunghu/status/499770292945039360 
Locations
Police Department

Thursday afternoon 8/14, over 200 protesters are reported to be marching to the police station (source)

Churches
West Florissant Avenue

Monday 2014-08-18, police were threatening to arrest anyone who stopped on the street in any one place for too long. The protesters - and journalists - were forced to keep walking if they wanted to be in the area. Here's a video of the march.
Slogans & Chants
The following slogans have become symbolic of the demonstrations:
Hands up, don't shoot
No justice, no peace
Fuck the police
Who shot Mike Brown, you shot Mike Brown (source)
No justice, no curfew
Hey hey, ho ho, those killer cops have got to go (source)
No justice, no peace. No racist police.
Who do you serve? Who do you protect?
Who are we? Mike Brown. Who are we? Mike brown.
No justice, no sleep. (source)
We want justice, here's your peace (source)
Effects on Local Stores
(source)
Nearby grocery stores have posted reduced hours for the coming days. Much of the action has happened at night when protesters and police clash.
Other businesses remain open despite boarded up windows.
Sam's Meat Market, located near the scene of nightly protests (source)
St Louis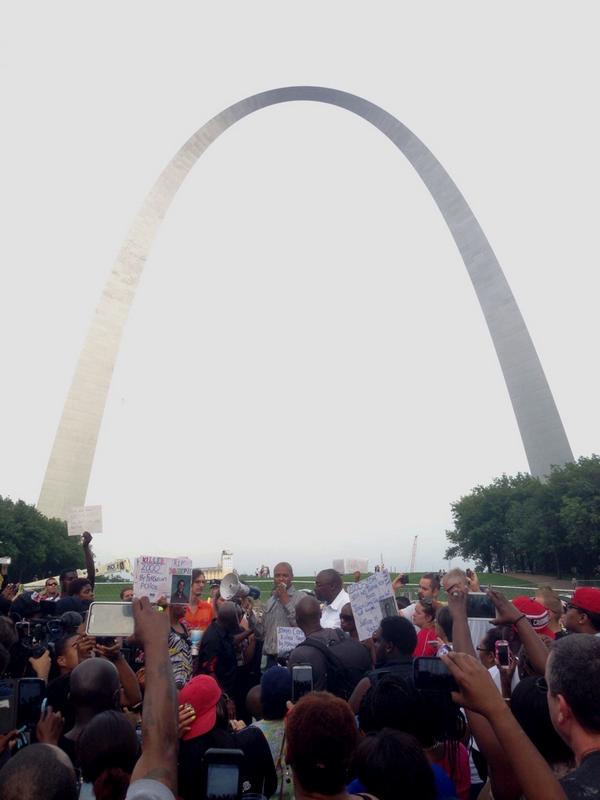 protestors gather in support of the Ferguson community in St. Louis [BrianHeff]
St. Louis Detective Kevin Bentley mingling with crowd [ryanjreilly]
Nationwide
National Demonstrations of Solidarity and memorial vigils are being planned across the country. See this google doc for a list of upcoming memorials and the National Moment of Silence on facebook.